This blog post is about my passion and experiences working as a photographer who specializes in working with government entities and public agencies. It begins with the story of a particularly amusing assignment challenge before getting into why I so enjoy photography from the perspective of public servants. The piece culminates with my thoughts on what it takes to have achieved expertise in the art of strategic visual storytelling for government. -Arash
---
"I mean, it's a fence! And he made it beautiful."
That's what I overheard a department director at the Port of San Diego comment with a hearty laugh as they studied my shot of the public art adorned fence dividing Pond 20, a protected natural habitat, and Palm Avenue, a major thoroughfare connecting the City of Imperial Beach to Interstate 5 freeway.
When I was given the assignment to capture an image of the aforementioned fence, I was warned that it would be a bit of a challenge. The Times of San Diego's headline read "Panoramic Fence Set for Imperial Beach's Ugly Pond 20." Palm Avenue is a bit of a highway of rushing traffic populated with mechanic shops and beyond the fence is a swamp that may not look like much without knowing that it's a protected habitat. A public comment driven survey was meticulously executed in order to encourage community support on the beautification project. On one hand it was just a fence on a street. But it was also an important and very visible inter-agency collaborative statement. When being given the assignment, it was communicated to me that while getting a pretty shot of this fence would be a challenge and that expectations weren't particularly high on what I might return with, it was also was important for me to know that it was a politically sensitive project.
So no pressure! But you know… Some pressure.
On a mild afternoon and under a clear sky, I snapped a few different angles before realizing that my superiors' warning was not without merit. I tried a few different photography tricks like super low vantage points and dutch angles. After more than a few snaps of the shutter that "uh oh" feeling filled my gut. The next potential approach was to run out to the divider in the center of Palm Avenue and get a wider view. A few more snaps with the clear open, cloudless skies and the uninteresting asphalt filling up most of the frame and I began to sweat a bit. The imposter syndrome inner monolog started to autoplay, as it sometimes does for so many creatives and artists, making me doubt if I could pull this off. I was starting to run out of ideas.
Then, I noticed some foliage wrapped around the center street dividing fence. So I placed my lens through the flowers and weeds and utilized them as a frame, adding some color to the image. A few snaps later, out came the photo you see below.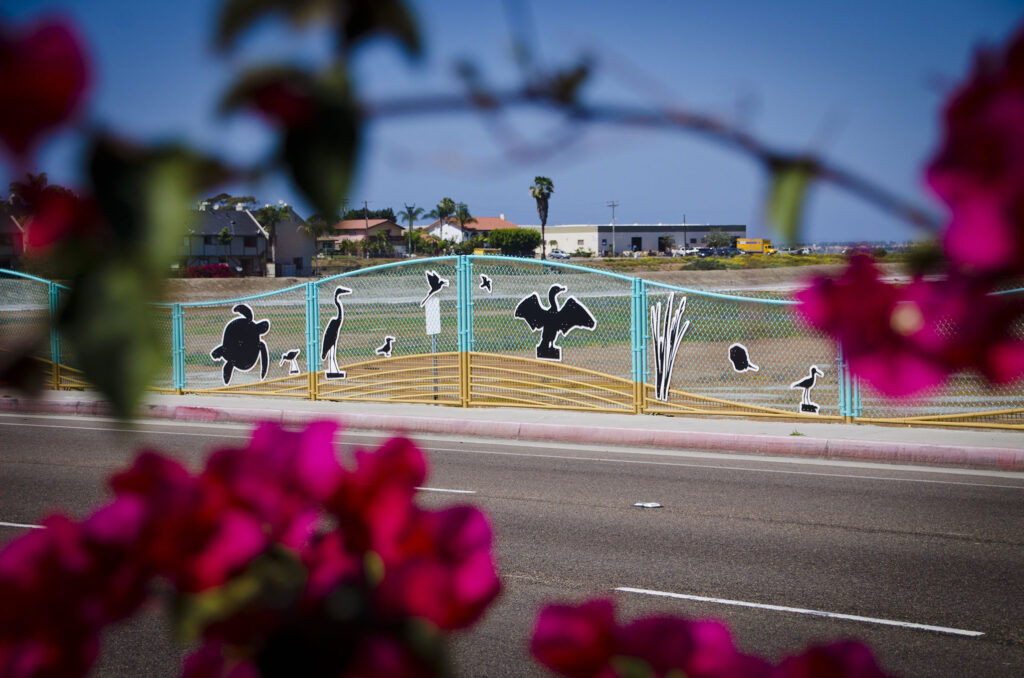 Thing is, I love these kinds of challenges.
Some photographers shoot specifically so they can edit the photos on their computers after. They're just itching to lay out all the shots and dive deep into Photoshop. Others get a big kick out of having lots to control over setting up every detail of the shot ahead of time. I'm thankful to have discovered my own space in the market by being the weirdo who prefers neither of those approaches. What I most enjoy is being given the assignment to tell a story with very minimal turnaround or ability to control the circumstances. "Freedom inhibits creativity" is a phrase I stumbled into early on in my creative journey.
The majority of my paid gigs are ones where I'm booked for the day with a public agency and given a set of destinations and requests. Then I get there and have to figure it out. And boy do I love figuring it out! Every shot that gets crossed off for the day is a dopamine rush of solving a little puzzle. We need a pretty photo of a not traditionally pretty piece of infrastructure for a press release tomorrow and I have three hours of sunlight left today? Excellent! Let's go play with the camera!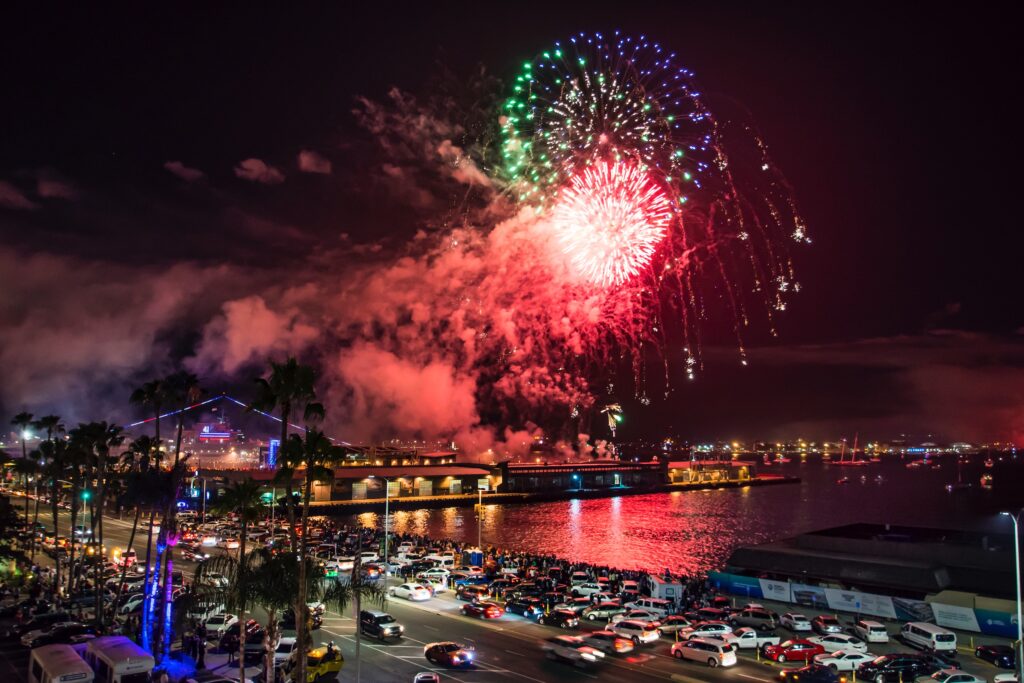 An expert is simply one who's made every given mistake in a very narrow field.
Additionally, I just really like public servants. I worked for government for many years before taking the leap to work freelance. My first internship was in the Port of San Diego's marketing department when I was 21. Years later, I returned to work for the Port District, first as a Park Permits Staff Assistant and then a Graphic Designer before being given the opportunity to wow leadership with my photography which lead to the in-house photographer position being created for me.
The 10,000-hour rule, a fun idea popularized by Malcom Gladwell, suggests that mastery of a particular skill comes after 10,000 hours of practice. The Beatles, for example, supposedly played for an accumulative 10,000 hours as the house band of a German cabaret before they were discovered and recognized as the cultural pioneers we recognize them as being today. I most certainly don't consider myself a master (of anything at all) yet, but when called upon to wax philosophic I often share that the Port was where I got a giant chunk of my 10k hours in on my journey towards expertise as a professional photographer. Because every day the needs were different. On a Monday, I might be shooting tourism photos of attractive families on San Diego Bay and on Tuesday, the assignments might be product photos of promotional items in the morning and executive headshots in the afternoon. In my experience, being a pro at something is less about being the most talented and more about having had to pivot on a dime enough times to have developed the ability to keep cool and figure it out now matter what new curveballs get thrown our way.
So I got to spend a lot of time watching public servants passionately at work. I got to see firsthand all the details that go into a development project and the various departments who work in concert to build the future of a city. From permitting to the diplomatic meetings to engineering visits to ribbon cuttings with politicians and community leaders. Point being, I'm quite eager to cut my teeth shooting more in the fashion and music industries, but my professional expertise is in telling the visual stories of public service in action.
Working in public service aligns with my personal values.
Artists are typically not money driven. We tell stories because we can't not tell stories and if we could get away with never charging anyone a dime for our art, we'd do it. But since paying rent is a reality of life, it does excite us more to contribute to a cause that feels good. Contributing to visual communication strategies that bring communities together is a cause I can get behind so it makes the work flow with ease. For example, it's always incredibly easy to just walk up to random folks on the street and ask to take their photo for a brochure, website or poster. Simply explaining to to my would-be impromptu models that the photos I'm shooting will be used in a park beautification or economic development project pretty much 100% of the time ensures an enthusiastic yes response.
Since I left my job as the Port of San Diego's full-time in-house photographer, a great deal of my work has been with JPW Communications, a marketing and communications firm populated by a staff of folks very much like myself. I've had the pleasure of providing photography services for a variety of public agencies and government municipalities including the Port of Redwood City and the Cities of Murrieta, Lancaster, Menifee and Chula Vista, among many others. I continue to periodically fill in for the Port of San Diego when called upon.
What I love most about what I do is that I get to access all kinds of cool places a typical citizen may never even know exist. A few years back I got to snap images of crowds of costumed pop-culture fans at Comic Con International from the roof of the San Diego Convention Center. When we contracted with Zone Seven Water District in Northern California, I captured epic images of massive reservoirs and visually mind bending processing stations as we worked to tell the story of where our water comes from. More recently, I got to tell the story of the dedicated staff of Placer County Waste Management as they separated massive amounts of incoming recycling from trash before heading back to Southern California to document the dedicated workers of the City of San Marcos Public Works as they cleaned graffiti.
Strategic Storytelling.
It's a bit of cliche to say it this way but there is no typical day. The only typical part is that clients will book me for a full day. They'll have a range of priority subjects which need to be captured but the people, lighting, locations and challenges are all over the place. I meet with officials, employees and administrative staff in various locations and we figure it out together. A couple of months ago, I was crouched in the middle of a street in San Marcos as a department director passed along my directions to the street painters via radio as I snapped low angle shots of their specialty vehicle passing by.
Regardless of the shoot, my client's is the perspective from which I'm seeing the angles. When the San Diego Convention Center contracted me for Comic Con International, my focus was less the glitz of the costumes and more about documenting how the street closures were effecting the event. But event while focusing on strategic documentary, turning in an aesthetically attractive set of exposures is still very much part of my job. The images may very well be used in an important powerpoint presentation that only a handful of people may see, but those handful of people may very well be the mayoral staff and their experience in that small meeting determines shifts in local policy. So whether it's five people or 5000 people that see my photo, the level of creative attention I give each shot remains the same.
Let's connect and tell your agency's story.