Short Bio
Professional photographer, artist and community builder, Arash Afshar, is driven by a personal life-long pursuit to present the stories of passionate individuals who move society and culture forward. Arash has served as the official photographer for the Port of San Diego where he captured images of local and world leaders in historic moments. He continues to contract with public agencies and marketing and communications firms where he provides strategic visual storytelling of public servants and elected officials in action. Arash has a unique eye for cinematizing emotions and intimate moments hiding just under the flurry of movement and action in his frame. In addition to shooting portraits and street fashion, Arash has been a director and editor of underground Hip-hop music videos, founded Justified Hype creative collective and developed his narrative mastery by interviewing creative pioneers for the past decade in various media. Having created and launched Burner Podcast, Arash has built and hosts the longest-running traditional format podcast covering the international Burning Man culture and consciousness. Based in Southern California and traveling often, Arash enjoys his daily meditation practice, exploratory urban hikes and journaling with coffee or a Malbec.
Extended Bio Written by Lori Thurman, 2019
In a past life, Arash Afshar was a full-time graphic designer and part-time creator of underground music videos. Then, realizing he was more interested in capturing the essence of a juncture in time (and in the interest of avoiding post-production drudgery) he turned to photography, which lead to his securing a photography-specific position created for him by the Port of San Diego.
It was upon discovering the Burning Man community where Arash really began exploring ways to merge his love of community engagement and activation with his art. In addition to his visual works, Afshar hosts Burner Podcast (which he began in 2014) – the longest running regular audio programme covering the Burner community and Burning Man. In 2018, Arash began developing the collaborative multimedia project that would become Justified Hype, a collective and media outlet aimed at merging the strengths of the professional world with the storytelling innovations of the creative communities which he had been navigating.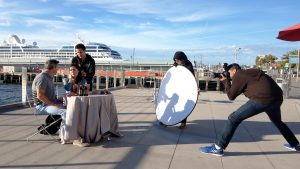 Arash uses his lens to reveal the essential facets of his subject, while simultaneously contextualizing it within its broader milieu. His photography juxtaposes type against expectation to reveal "in-between shots" that show life occurring in its most honest manifestations. Whether it's firefighters on rooftops, touching Vice-Presidential moments, luxuriant cityscapes, or simple portraiture, Arash Afshar creates a narrative that keeps the sincerity of the moment secure in rich focus and detail. His photographic voice, while lush and textural, never overpowers the subject of his lens. He has, simply put, fidelity to the focus.
For years, Arash worked as a corporate photographer by day and independent storyteller by night, connecting with artists in various circles at different points in their creative journeys. He envisioned helping these contemporaries along their artistic paths: helping to showcase their talents and encouraging the pursuit of passion without compromise. Justified Hype nourishes creative projects, keeping them in perpetual motion by giving them their due and thereby initiating new ventures. By catalyzing a tribe of collaborators, Justified Hype allows Creators to thrive through actualization of their heart-centered interests.