Do you know how Airbnb started?
The founders lived in home in San Francisco situated close enough to some big annual tech conference. Being tech guys themselves, they knew there were a lot of programmer types coming to town who maybe didn't care so much about staying at fancy yet lonely hotel. That they'd maybe even more enjoy connecting with others in their community and save a ton of money on top of it. So they had the idea of renting airbeds throughout their place and facilitating an epic slumber party of big thinkers and serving cereal for breakfast. Thus was born, Airbed and Breakfast.
Airbnbs are now the premiere staging platform for travel experiences. People don't stay at Airbnbs simply because they're looking for a place to crash. The personality of the Airbnb is a part of the story folks want to remember about their travel adventures. The energy of your home becomes a very important part of a traveler's journey.
Recently I had the pleasure of photographing a dear friend's Airbnb in Mission Hills and it was exactly the kind of Airbnb I'd choose if I were booking one in San Diego. It has so much personality! Shooting a person's home is a bit like portraiture. It may be a physical space but I see it as a living, breathing entity. For this post, I thought it would be fun to share what my thought process was on how I go about capturing an Airbnb.
Lay of the Land
The very first thing I want to see is a general layout of the home. What am I walking in to? How big is it? Does it feel warm and welcoming? Our minds like to start with a general snapshot of what we're getting ourselves into. Where's the living room? The kitchen? What's behind that walkway?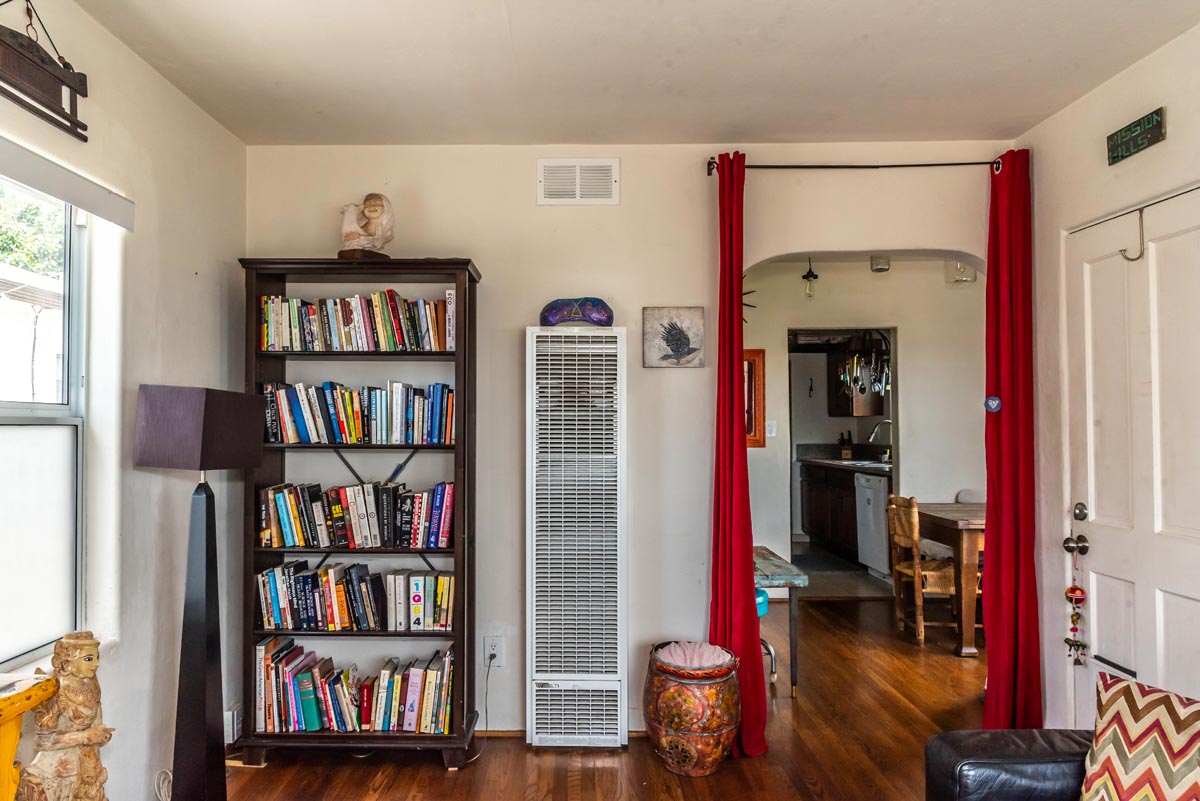 Where will I be showering? A shave and a shower may be on top of the agenda for a traveler.


Then the bedroom. Where will I be laying my head? What's the first thing I'll see when I wake up in the morning?
The Views
Ok I'm into it. This place feels good. Now that I know I feel safe and secure sleeping here, I want to see what I'll be seeing when I look outside. Is there a place to kick my feet up and watch the sunset?





Strategic Storytelling
If you're thinking about a career in professional photography, the ability to take really pretty pictures is a nice starting off point. But the job of the photographer, especially the kind that works in marketing and communications, is the find the visual story the client is looking to tell.
Below you can see a perfect example of the kinds of things I'm looking for. The photo above is, in my humble opinion, is a more attractive photo. You see the sky more clearly and the angle gives the subject a bigger, more epic feel.
But sometimes, during the photo selection process, we have to make some tough decisions. I learned a long time ago to let go of my emotional attachments to the final images which get selected for campaigns. The creative pleasure I receive – what fuels my endorphins – is the shoot itself. What the client does with the images afterwards can't be my concern.
So here you'll see a perfect example of the kinds of angles I make sure to cover on any gig. This second image of the balcony is not as artistically interesting as the one above, but if the client has to narrow down to a handful of shots, perhaps communicating that there is a place to get coffee right across the street becomes a priority. (I know it would be for me if I was the person renting the Airbnb!) This shot conveys more information in a single image, saving the viewer more time and doubling down on the Airbnb's selling points.
Location, Location, Location
So I have an idea of which part of town the Airbnb is in because I searched specifically for the neighborhood I wanted to say in. We see lots of posts that boast "walking distance" to all the things. As regular travelers, however, many of us had that heart-syncing feeling when we arrive at the address and think, "Oooh, yeah… It is walking distance but this distance is not one I actually want to walk."


It need not be smack in the middle of all the luxury high-rises but getting a general sense of what my immediate surroundings will feel like will go a long way to make the travel experience more pleasant. In this particular location, I stepped outside and made it a point not to walk too far from the front door in order to capture what would be in the traveler's line of site. Maybe the person staying at the Airbnb is in town for a wedding and the idea of being close to a Holiday Inn (which other family members might be staying at) is a selling point. For me, a born and raised San Diegan, the ability to grab a burrito just a few steps away is totally fetch.
The Angels in the Details
When something interests us, it is our instinct to lean in. The rest of these images are aimed at the audience that's pretty much sold on the booking. Now we're just curious to see some little details. Maybe we discover clues that subtly bring our attention to the amenities. In the images below, I made sure to show the oven, the art, the coffee pot and the air conditioning controls. Bookshelves are also a fun little snapshot into the personality of the Airbnb owner. The owner of this Airbnb is a regular participant of Burning Man and that guide book on the shelf is a little wink to fellow burners.






Finding It
At this point I'm pretty much hovering my mouse on the reserve button. Now I'm wondering if it'll be easy or hard to find. If I get there in the middle of the night and I'm stumbling around looking for the keys with my iPhone flashlight, are there some reference images I can pull up on the app?



Maybe it's important to communicate that there are a couple of flight of stairs I have to climb?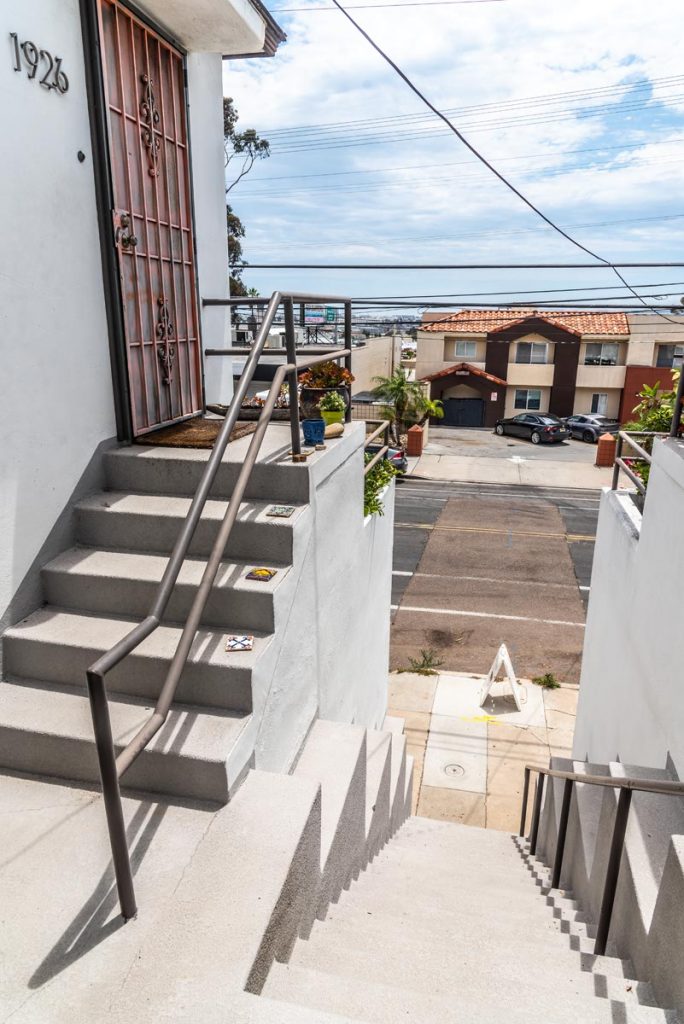 A Portrait of a Place
I had a blast shooting this Airbnb. On this particular shoot, the owner hung out with me the whole time because we were already friends and enjoying the catchup sesh. If the client isn't present, I'd put on my headphones and do what I do. I shoot a lot of portraits and commercial shoots with actors and models so sometimes it's honestly really nice to just get to introvert and play with exposures. Recently I've been shooting some hotels in Southern California and it has been such a lovely experience just getting lost in my own little creative world. I feel like a kid exploring a maze. 
My rates will very depending on the scope of the project.
On my ideal shoots, I'd love to actually stay at the Airbnb for an evening or two as a part of the agreement. This is what I've been doing with the hotels and it allows me to really settle in to the energy of the space and find the story. You can see my rate sheet here and I can tell you that this particular shoot came to $750.
It was a single bedroom close to my place (I bicycled over), I turned in 40 or so final images to the client and she did not request any edits. Some clients prefer to have every single image I shot so they can choose which ones they want me to edit. Others are happy to receive the final selections I choose.
My quoting process begins at $150 per hour and I have to consider travel, etc. Whatever amount of time we think something's gonna take, it's probably going to take up an additional couple of hours of our lives than our original intentions. When tracking travel, planning, photo editing, communications and delivery, this particular shoot was about a five hour commitment of my time.

I live in San Diego but always looking for excuses to travel.
If you're interested in working with me to tell the story of your Airbnb listing, shoot me a message.
It is very possible that I already have plans or have set intentions to come your way anyway. I'm always on the hunt for new locations for fashion photo shoots and new cities to record podcasts in. Maybe I'm meant to come to your city next.
Fun side-story to wrap this post…
I've done a lot of work for multiple municipalities and government agencies so it is a common experience to stumble into my shots in magazines, bus stops and now, to my delight, Airbnb listings! I'm guessing this person snagged their main photo of Yachts on San Diego Bay from the Port of San Diego's Flickr page (which is public domain – you're not supposed to use it for commercial purposes so an Airbnb listing is kind of a grey area).
I know my shots. The blur on the very left of the screen is from the wide angle lens I was using that day.